That Cheese Plate & The Points Guy - Airport Lounge Edition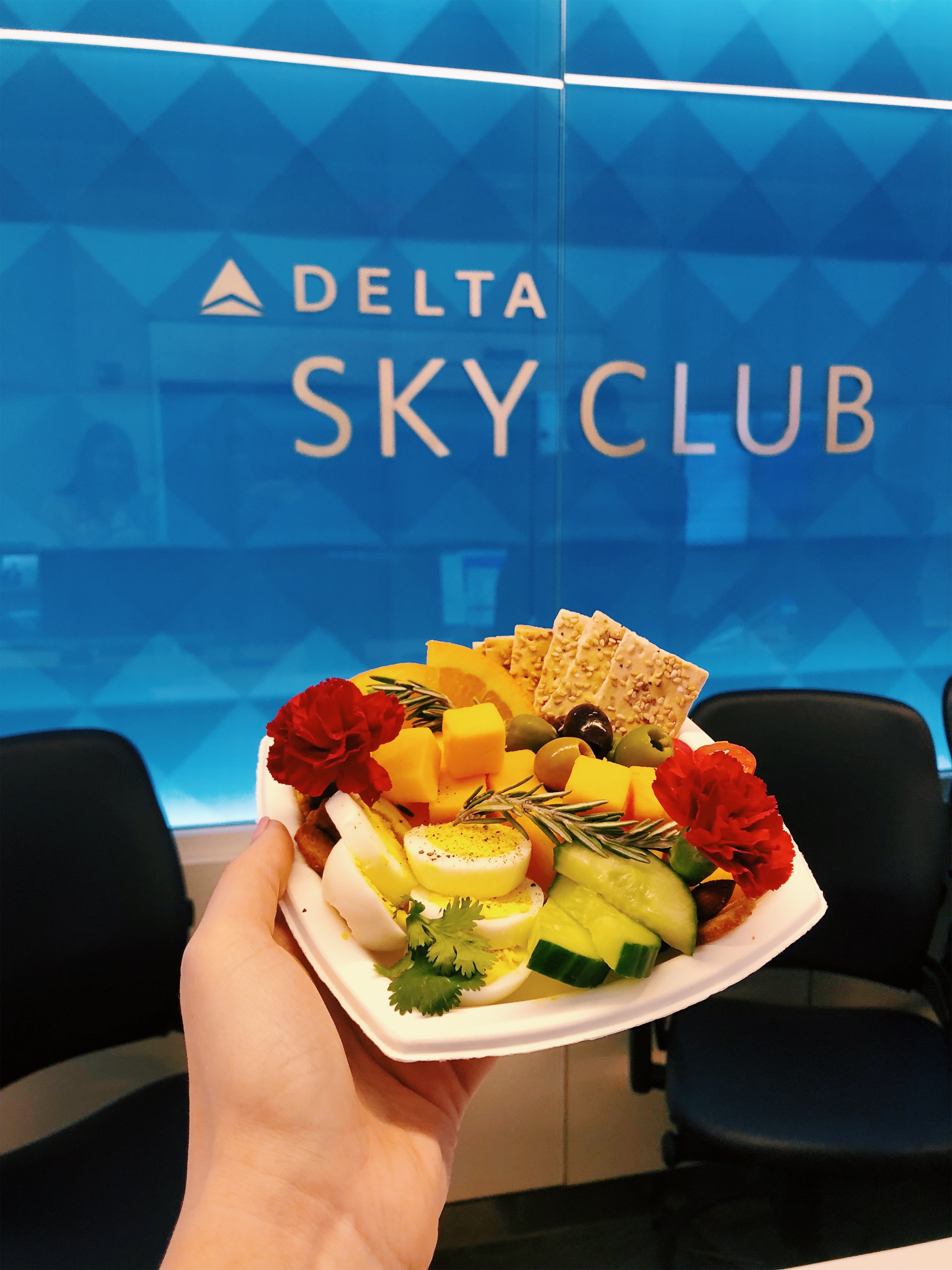 DIY Airport Lounge Cheese Plates
The second most random thing we've done at an airport
Cheese + Travel
You might be familiar with my viral JetBlue cheese plate. I was bored on a red-eye flight and decided to combine two snack boxes to create a tray table cheese plate. It was pure joy, and a hit on the web.
That Cheese Plate Levels Up
Not before long, The Points Guy reached out with an even better idea: Go to three major airport lounges and attempt to create cheese plates from the ingredients they already have. I'm always up for a good challenge, especially when it calls for making cheese plates with the bare minimum. With rosemary and flowers in hand (bring your own garnish), I hopped in a cab and headed to the airport but this time, to make some cheese plates.
1st Stop: Admirals Lounge (American Airlines)
I met up with Sam, social media director at The Points Guy. After I got through security with my bag of rosemary and flowers, we started our journey at the American Admirals Lounge. I was pleasantly surprised to find that they had a pretty decent selection to work with. They almost had everything organized in Cheese By Numbers order! Couldn't find salami, so a cheddar river sufficed.
THOUGHTS AND REFLECTIONS:
I appreciated the variety of cheese. They had cheddar, swiss and pepperjack to work with.

The assorted olives were a nice touch

Wasabi peas always get bonus points in my book
Stop 2: Delta SkyClub (Delta Airlines)
Upon entering the Delta lounge, I noticed that they still had some breakfast items available, including hardboiled eggs and fresh oranges. We decided to go along with that theme to make a brunch plate, accompanied by a mimosa of course. My garnishes were going strong, not yet wilted. This lounge had a lot of nice natural light and a friendly desk staff who ended up eating this plate for us (we needed to pace ourselves)
We went with another cheddar river using their orange cheddar cubes. Overall these lounges need to step up their cheese game. Luckily, we made it work. The brunch plate was one of my favorites (or it was the mimosa talking)
THOUGHTS AND REFLECTIONS:
Eggs are a good source of protein and almost made up for the lack of charcuterie

Fresh cucumbers!!!

The seeded crackers added a nice texture
Stop 3: United Club (United Airlines)
Last but not least, the biggest of them all - The United Lounge. They had a vast selection of (you guessed it) cheddar cubes!!! They also had a massive dessert section with a candy bar. I decided to make a sweet cheese plate equipped with brownies and a cupcake. At this rate, we lost a few flowers from the BYOG (bring your own garnish) bag but alas, we made it work. There was no natural light, but the reflection off a big glass structure in the center of the lounge provided some artsy lighting.
THOUGHTS AND REFLECTIONS:
I love dessert

Another. Cheddar. River.

These butterfly crackers remind me of early 2000's holiday parties
Which plate is your favorite? Comment below!